*NOTICE*
We have retired from ball python breeding


We are still happy to answer questions!

Please check the drop down menu options under "Ball Python Care" for a plethora of our knowledge
We spent 10 years keeping, breeding, and caring for these animals. We miss the hobby, but life happens!
slitherinsisters@live.com

___________________________________________________________________________________________

Welcome to the site!
Slitherin' Sisters is a small ball python breeding project between my sister and I. We are based near Iowa City, IA.
Our collection is growing, and a
s a conglomerate team we are hoping to build our morph collection a bit faster while maintaining quality and passion for our animals.

As of right now we aren't focusing on any particular designer morphs, we are pretty much just having fun building up our base morphs. We currently have over 80 snakes, including balls and a handful of sand boas.
Thank you for visiting our site, if you have any questions shoot us an email!


Sincerely,
The Slitherin' Sisters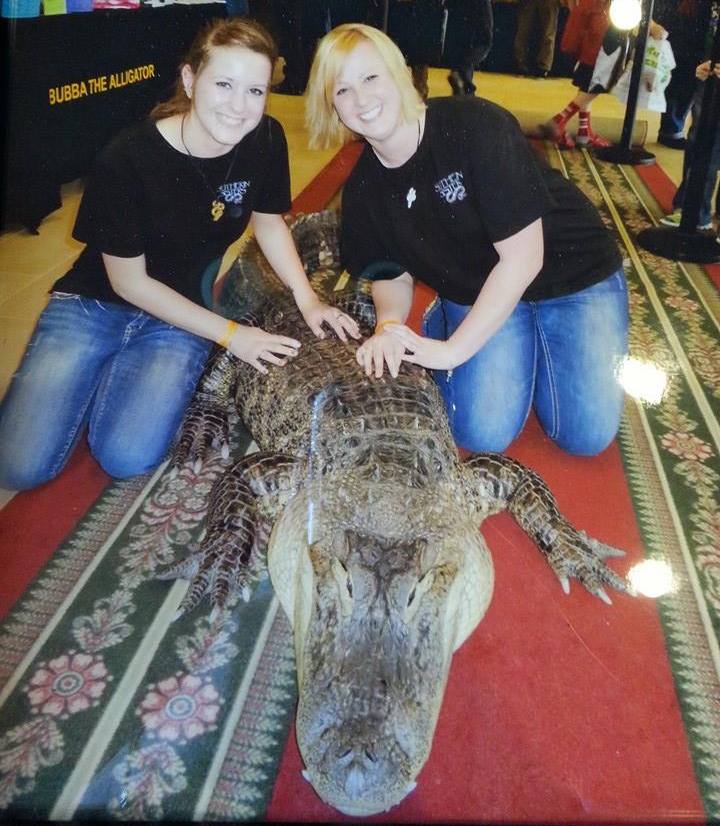 Featured Photo

The Slitherin' Sisters with Bubba at Tinley Park! :)

___________________________________________________________________________________________

Slitherin' Sisters News

Alright, we went to the Tinley NARBC show and picked up an awesome pair of clowns!
The male is breeding size, but the female is only about a year old.
Pictured below: female clown, then male clown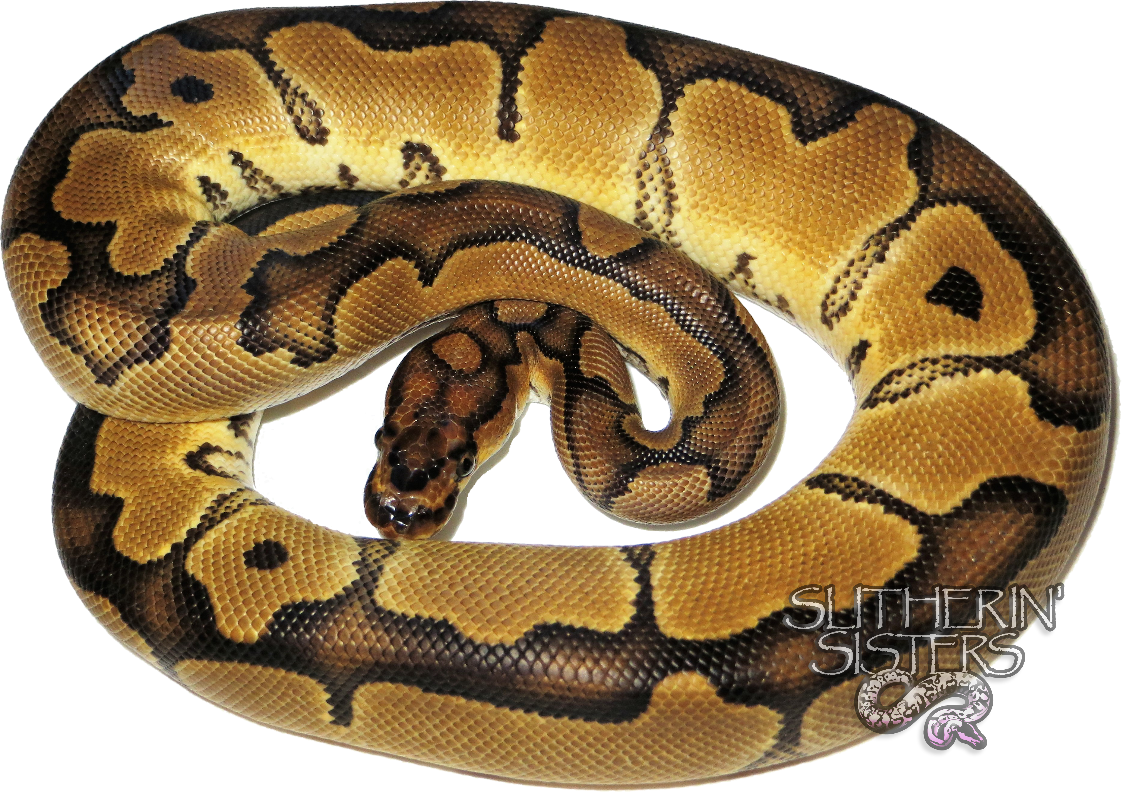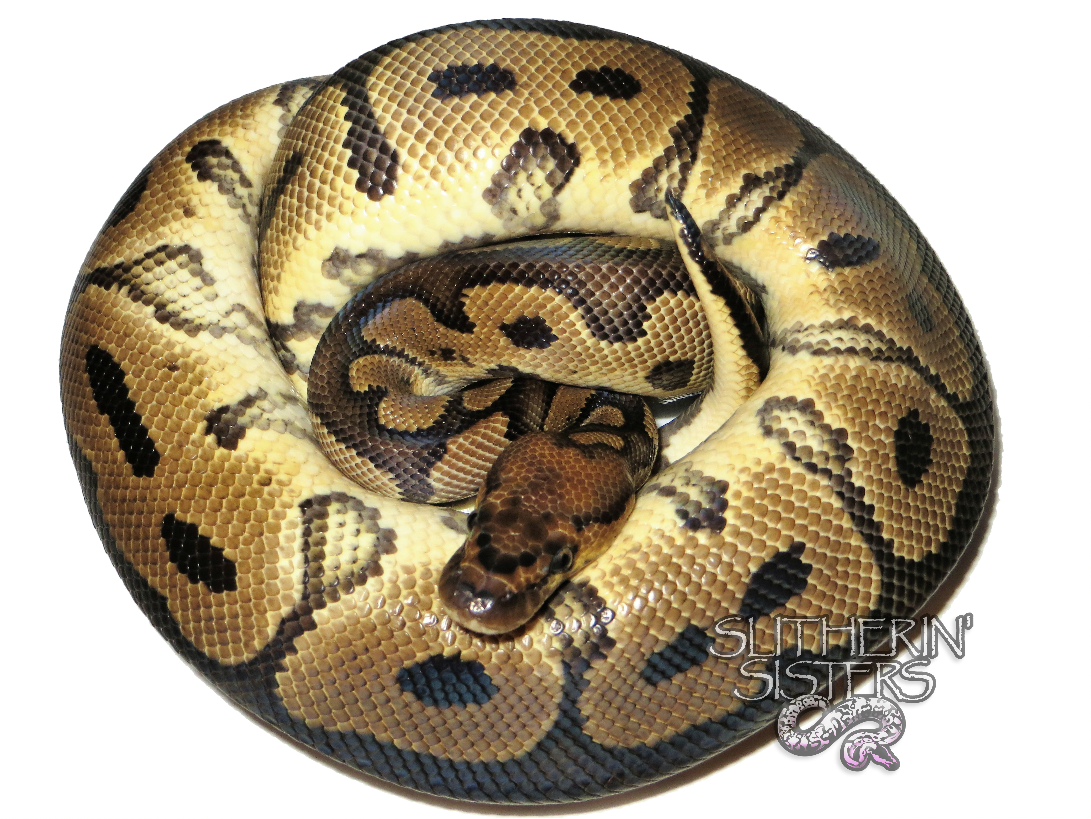 It's been a long while since I updated. My life got a little topsy-turvy for a bit, but now it's back on
track, and I'm back in the game full force! I've pick up a lot of snakes since the last time I updated,
but the most exciting addition is the girl pictured below, a pied ph ghost female! I got her
a ghost 100% het pied male to go with! I've got a lot of ghost projects in the making!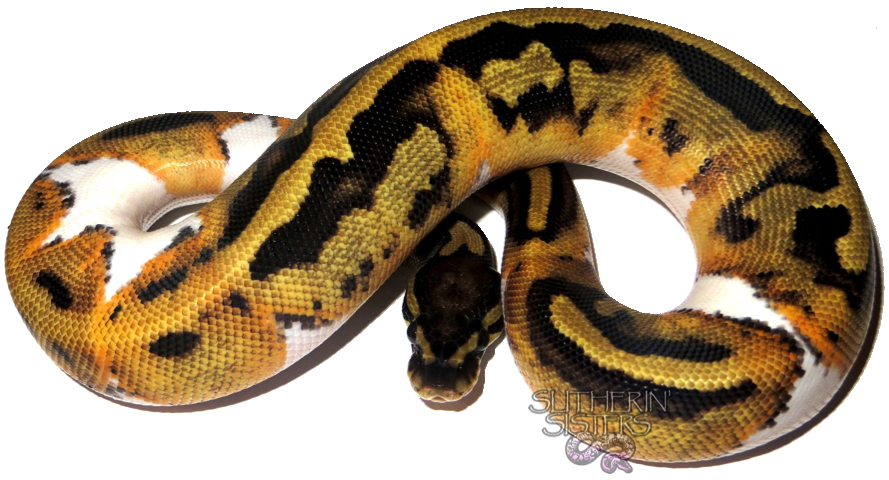 Holy moly things have been crazy this month! We have added total of 14 ball pythons and 1 Kenyan!
I'm not adding all their pictures in this news area, but here's the list of what we added:
2 male and 2 female dinker het ghost adults, 1 female het pied breeder, 1 female het ghost breeder,
1 female lemon blast, 1 female spinner, 1 female yellowbelly, 1 female fire, 1 female het pied,
1 female pastel het pied, 1 female axanthic, and 1 male bumblebee pos het axanthic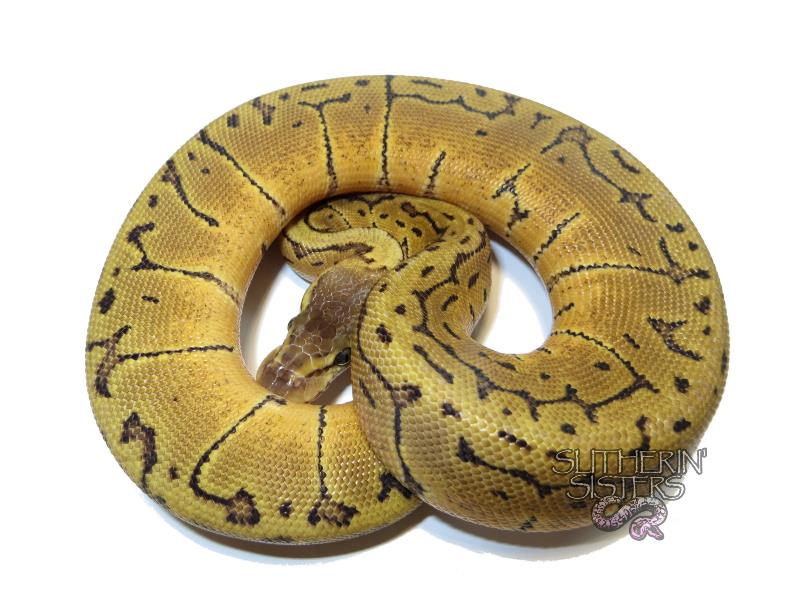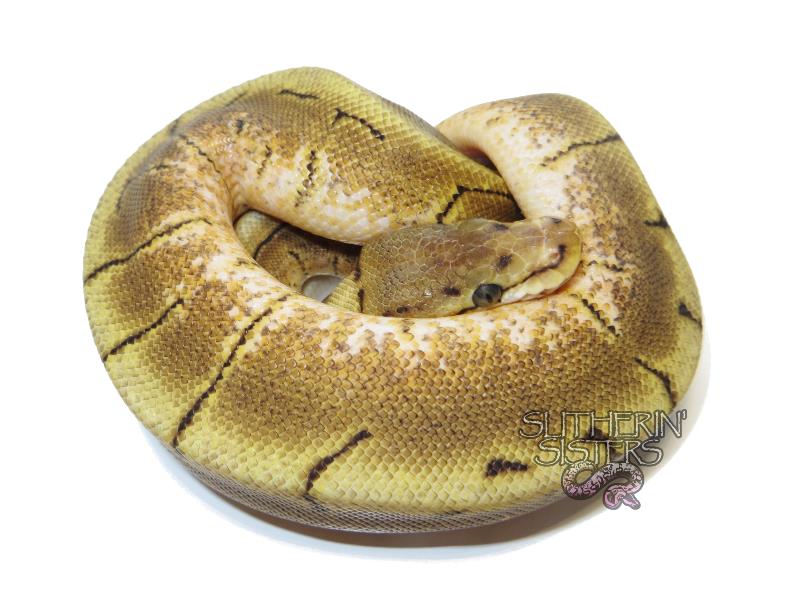 The snake room is coming along! Sorry it's a cruddy cell pic...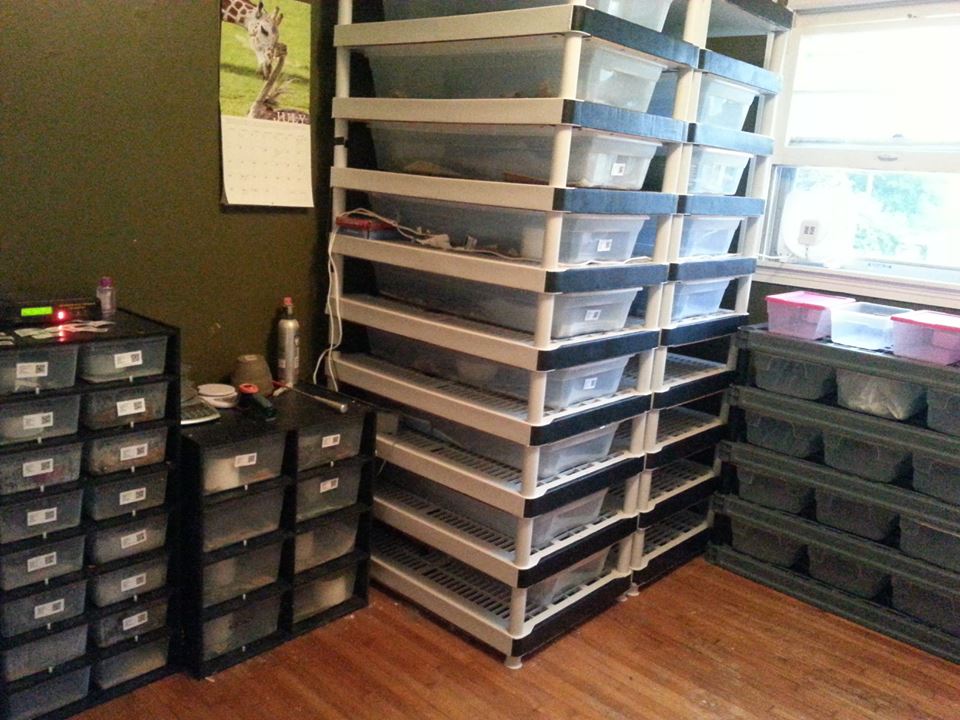 July 23rd
Pastave and Mojave

July 13th
Second clutch of the year is hatching!
I believe it's a mojave and a pastave in this picture!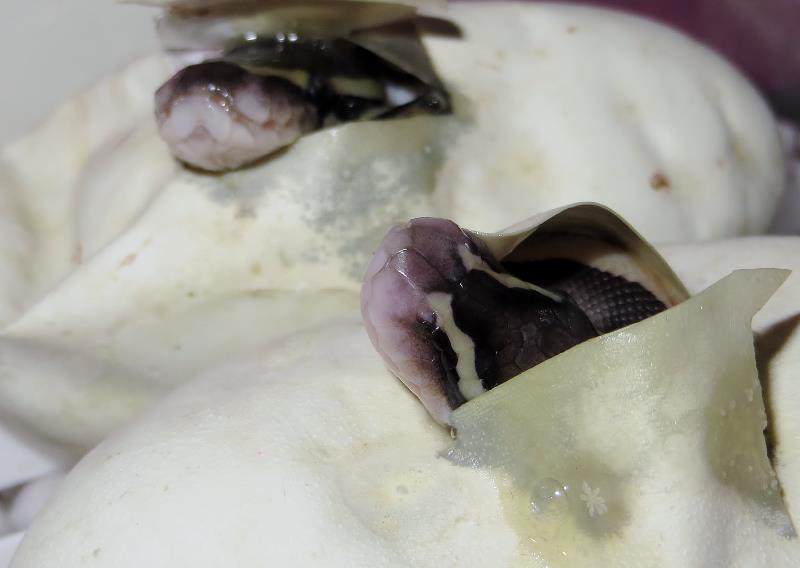 May 31st
Evil little trio, aren't they cute?! :)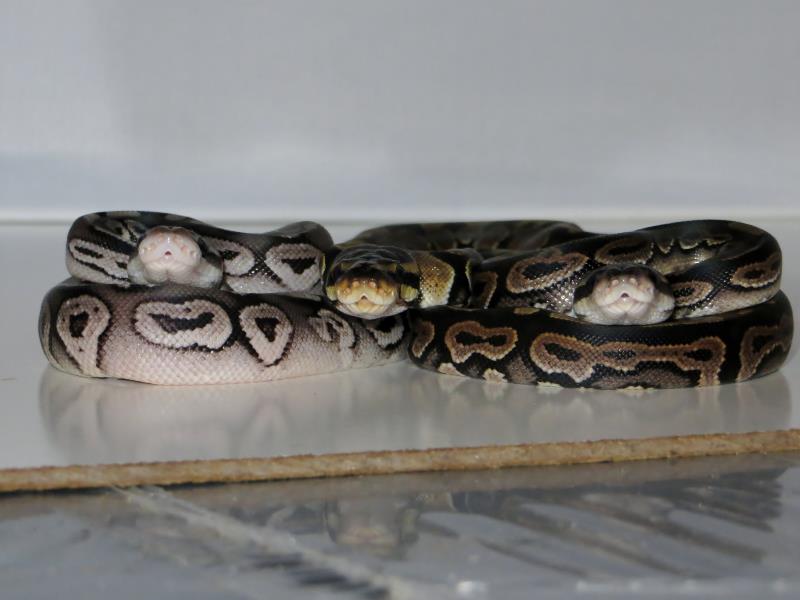 May 17th
The little trio! Cinny, Normal, and Pewter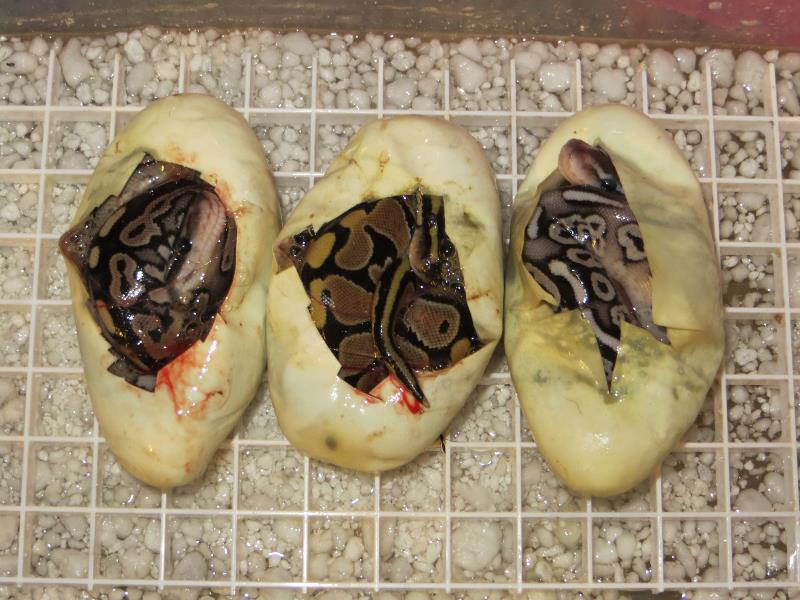 May 9th
Egg with a window, you can see the little snake inside!
(update, this was the pewter!)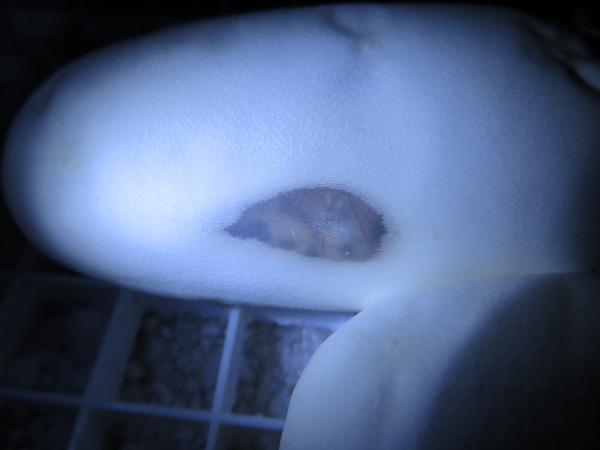 March 17th
Tinley pick ups!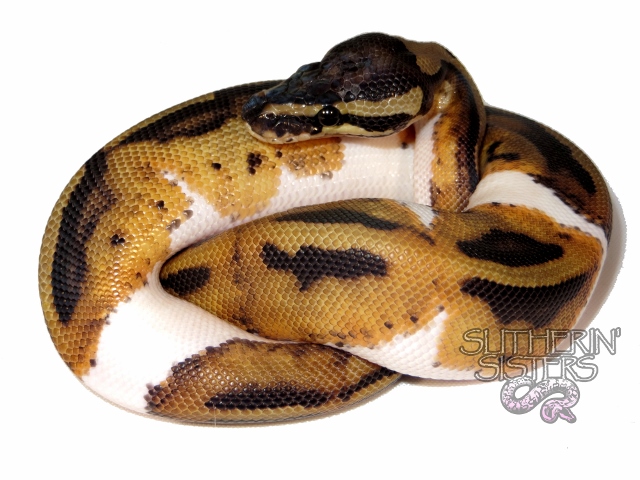 Spider Het Hypo female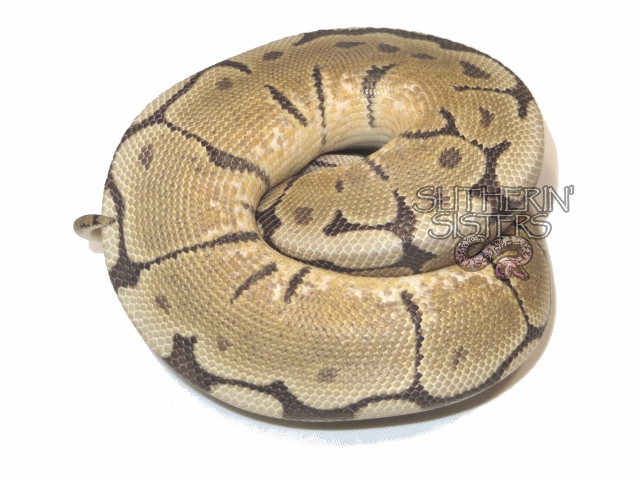 Spotnose female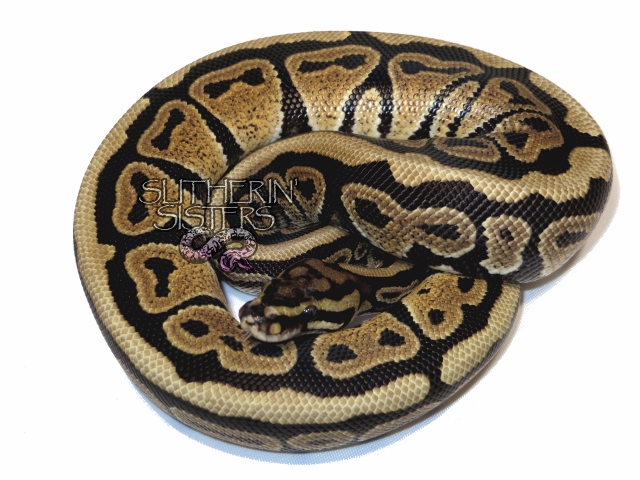 February 2nd
My "male" cinny ovulated and should lay eggs in 44 days...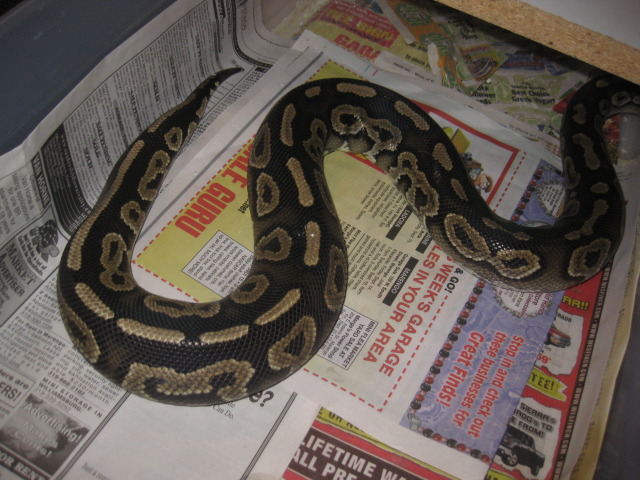 December 14th
Got my Christmas present early! Ghost Mojave male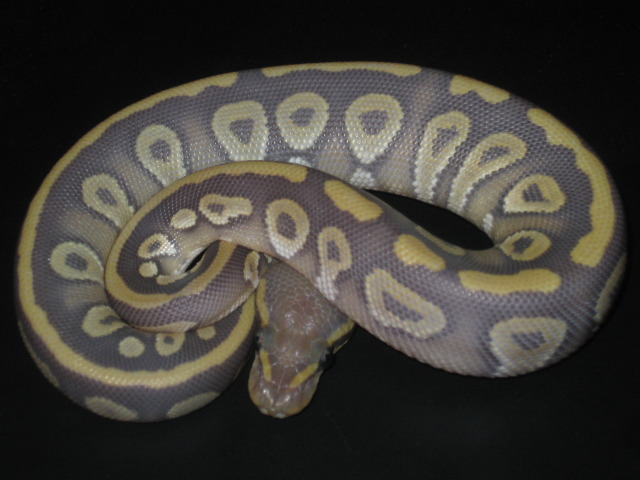 November 4th
Set up our first table at the Iowa Herp Show today!
We didn't have much to sell, but at least it was pretty!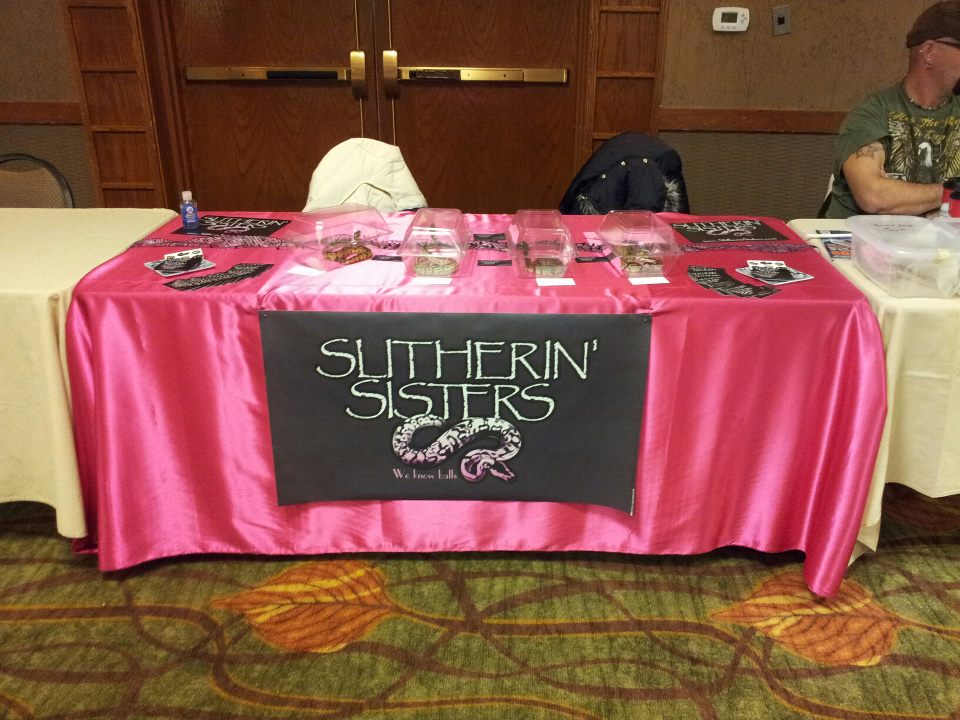 My sister's albino sand boas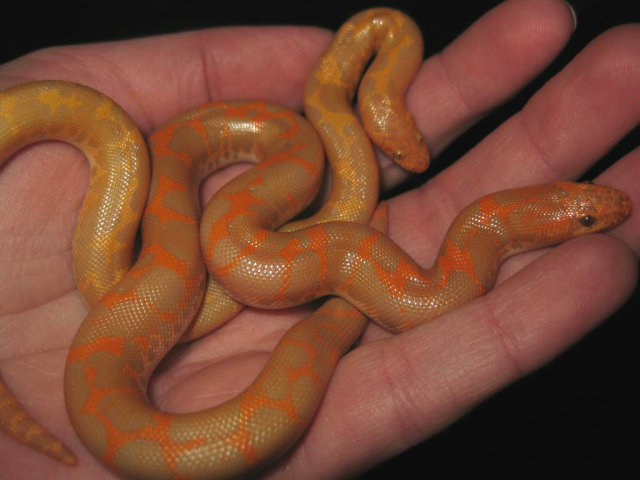 October 15th
Tinley Park pickups!
(there are 5 of them)

Breeder male cinnamon (1,600 grams) -'he' ended up laying eggs!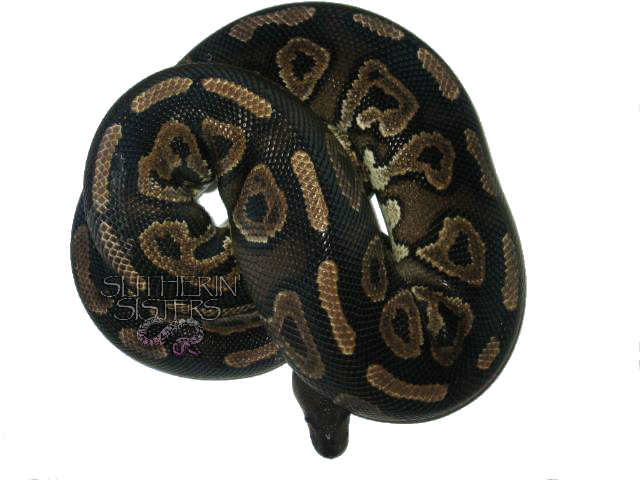 Spotnose male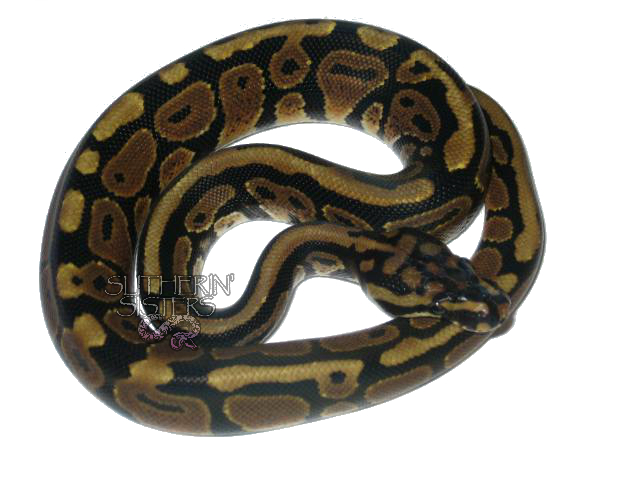 Fire male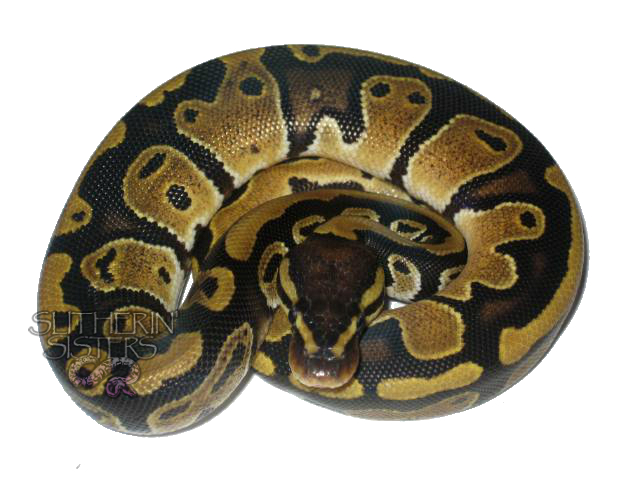 Kenyan x Egyptian Sand Boa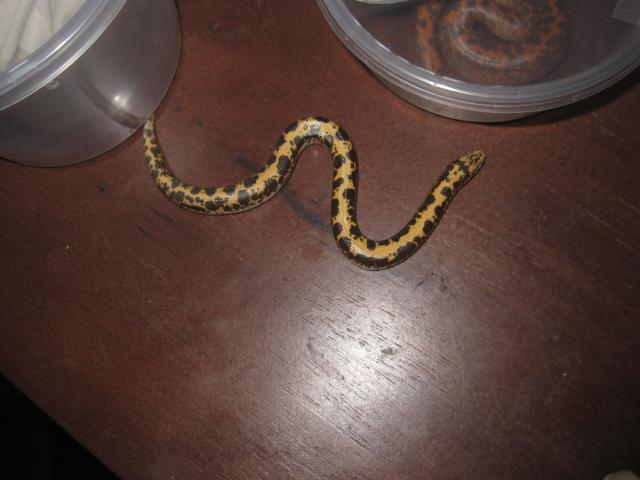 Stripe het paradox albino sand boa (in shed)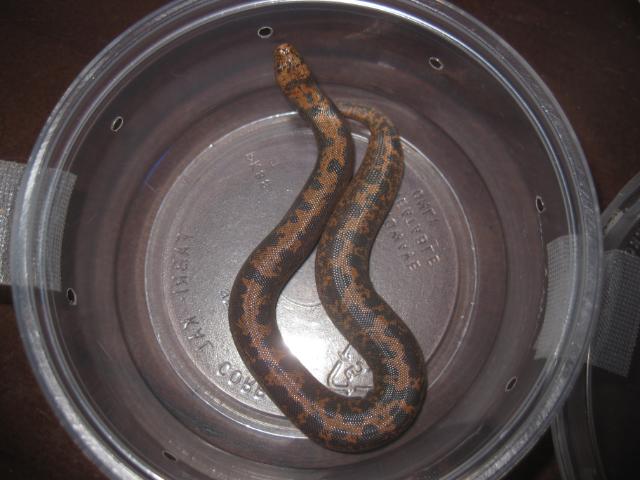 Started the breeding season a few weeks ago!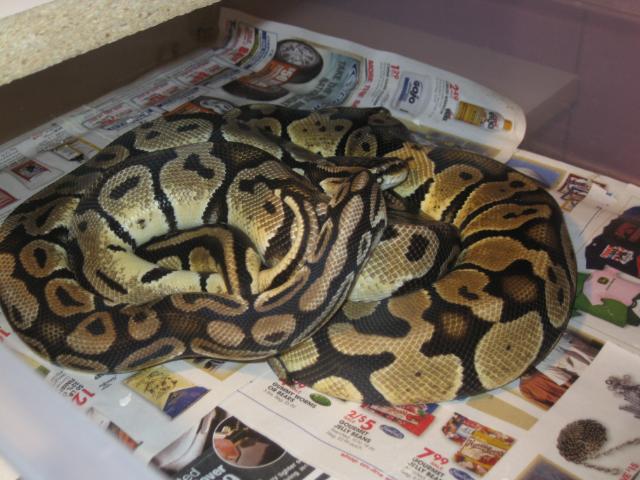 August 2nd
Picked up a couple beautiful girls! They were dropped off at the
pet store I frequent and since the pet store got them as surrenders of sorts,
they were way too inexpensive to pass up. They are1,100 grams and 1,500 grams!
As long as nothing is wrong with them health wise I will be breeding them this fall!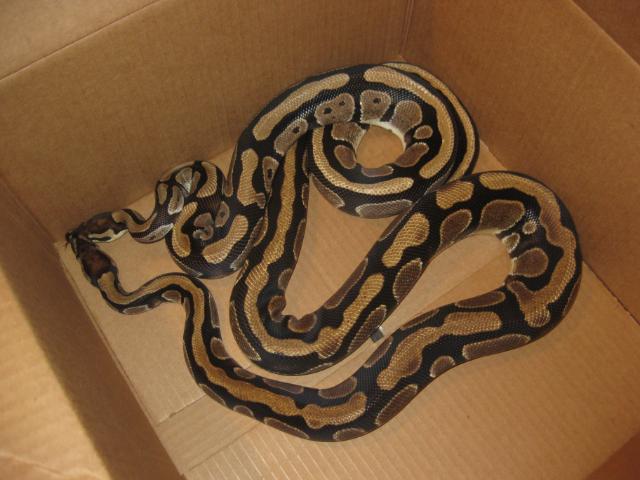 June
So I might have started a side project for the Slitherin' Sisters,
these guys are so much fun! Normal and Anery female Kenyan Sand Boas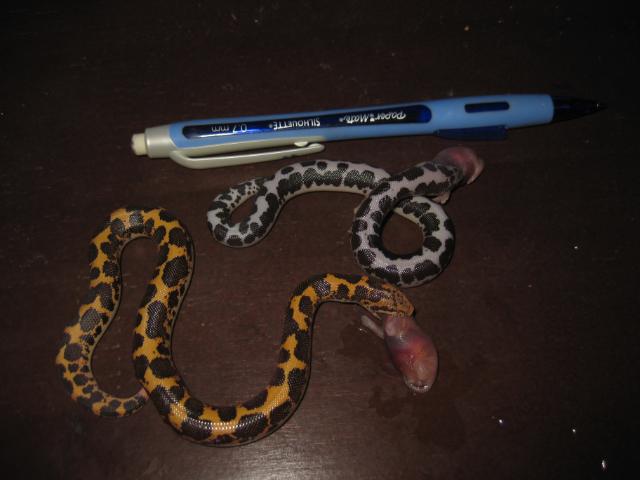 Yay babies!!!
2 normal females, 1 pastel female, June 23rd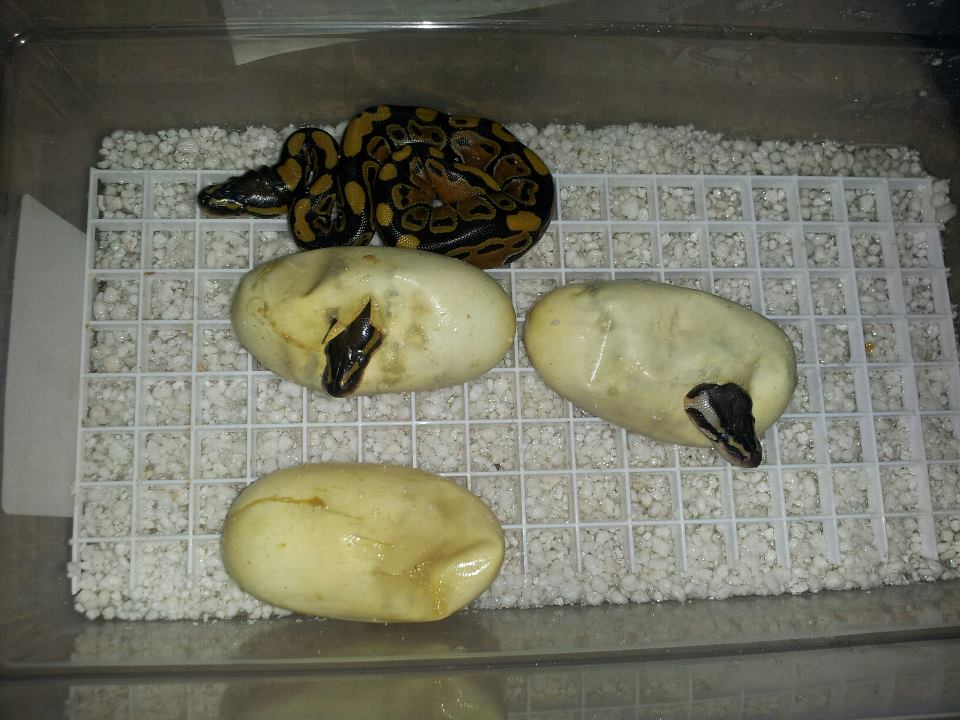 I'm really late getting her on here, but this is a girl we picked up at the Iowa reptile expo.
'11 Ablino female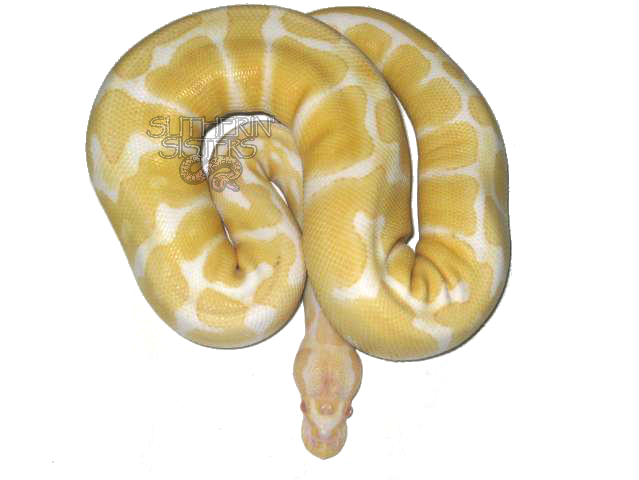 We are located in Southeast Iowa in the Iowa City area and can be reached at:
slitherinsisters@live.com
Copyright © 2009 SlitherinSisters, Inc. All rights reserved.
Content may not be used without permission.