2011-2012 Breeding Season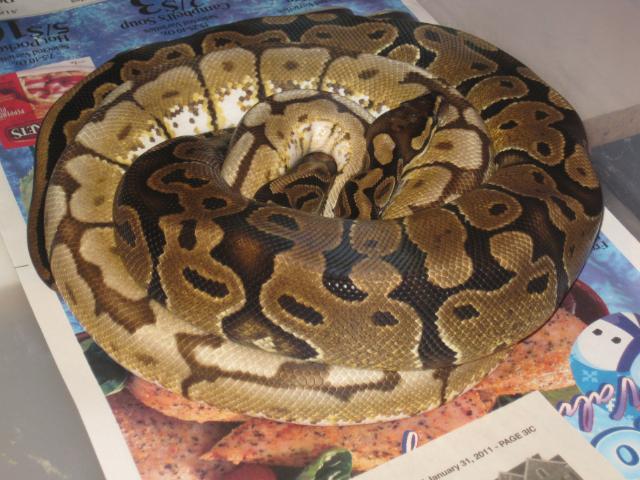 November 12th

It's the start of a new breeding season! I don't have anything too fancy this year, but I do have that breeder male bee that has locked up with two girls so far!

I will be breeding four normal females, a pastel male, and a bumblebee male. I will have the potential of making bumblebees, spiders, pastels, and normals. I may throw the mojave male at a couple of girls and see if he is interested in breeding this year. He is still on the small side thanks to him being a pain in the rear about eating. Here is a picture of the bee cuddling a normal female.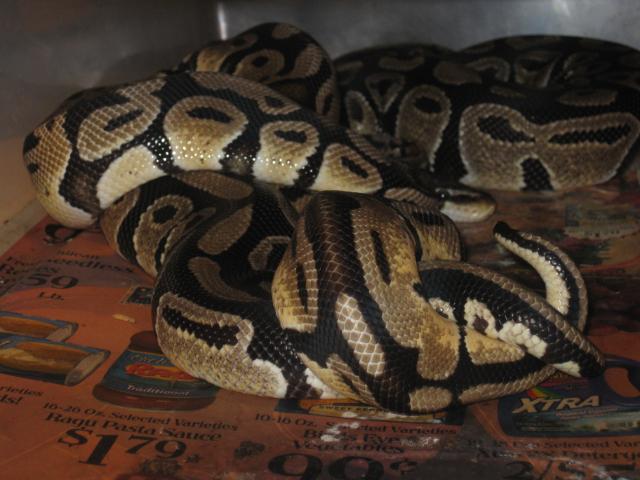 December 26th

Finally got a picture of a lock, not the first lock of the season, just the first lock I've had my camera around for! This is a normal and pastel.
The bumblebee has been locking, but I only have pictures of him cuddling with the females. He apparently doesn't like having his picture taken while he's doing the deed!
I have thrown the Mojave male in with a couple girls, but he doesn't seem interested at this point.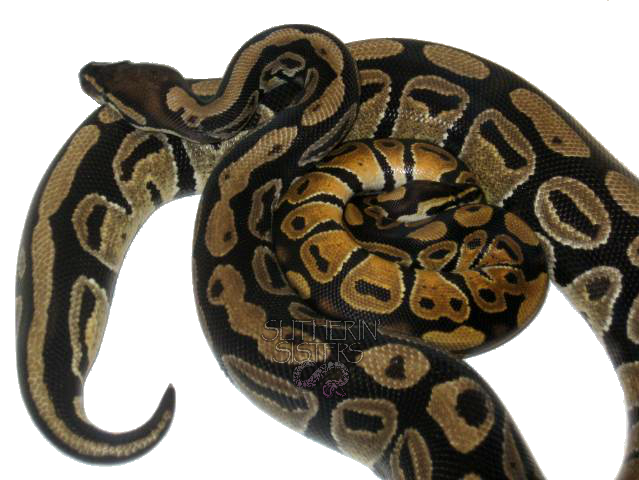 January 15th


Getting locks here and there, but my camera seems to
never be around when I see them. I still haven't seen the mojave lock, so I'm not sure if we will see any mojave babies this year. I'm hoping he gets his act together by next year when the mojave female is ready to breed!
I'm working on the "orange thing" this year, we'll see what happens! Here is a picture of the "orange thing" and his mom.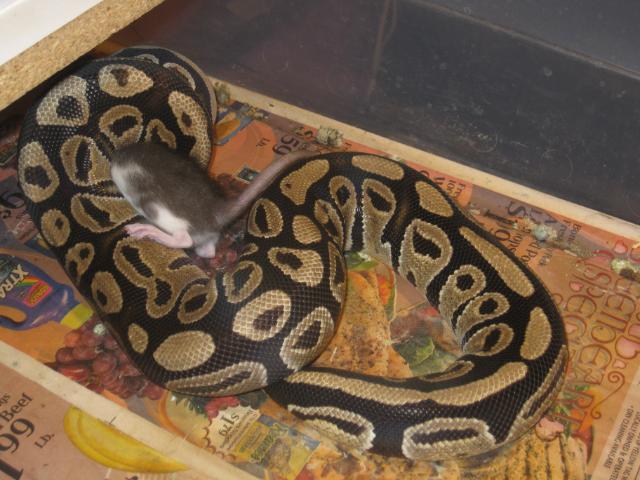 January 29th

Breeding season is coming along nicely! Girls are locking and glowing!
The girl in the picture above was glowing a bit, but now she is on fire!
Here she is now, glowing like crazy! I usually don't like to take feeding pictures, but she wanted to chomp my face off, so it was the only way to get good pictures.
So far 3 out of the 4 girls I'm breeding are glowing so I'm pretty excited! The mojave male just topped the scale at 600 grams so he's perfect size and age for breeding. I still haven't seen any locks from him, but I'm guessing he's shy and I'm just missing them
.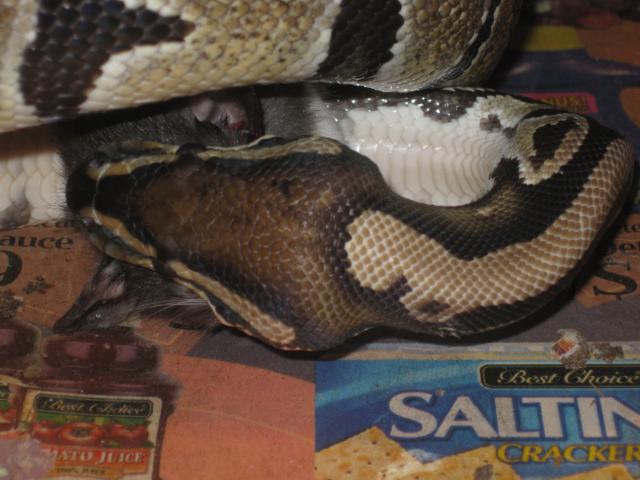 All the snakes are still eating and acting normal. Most of the girls have moved back to the warm side now.
That's about all the exciting news, they are all doing what they are supposed to be doing this time of year.

Just look at that head glow! She's the mom to the "Orange Thing" so I'm pretty excited to see her glowing. I'm doing the same breeding and hoping to prove it genetic. I still haven't decided whether or not to keep the name Orange Thing, that's just what I've always called him.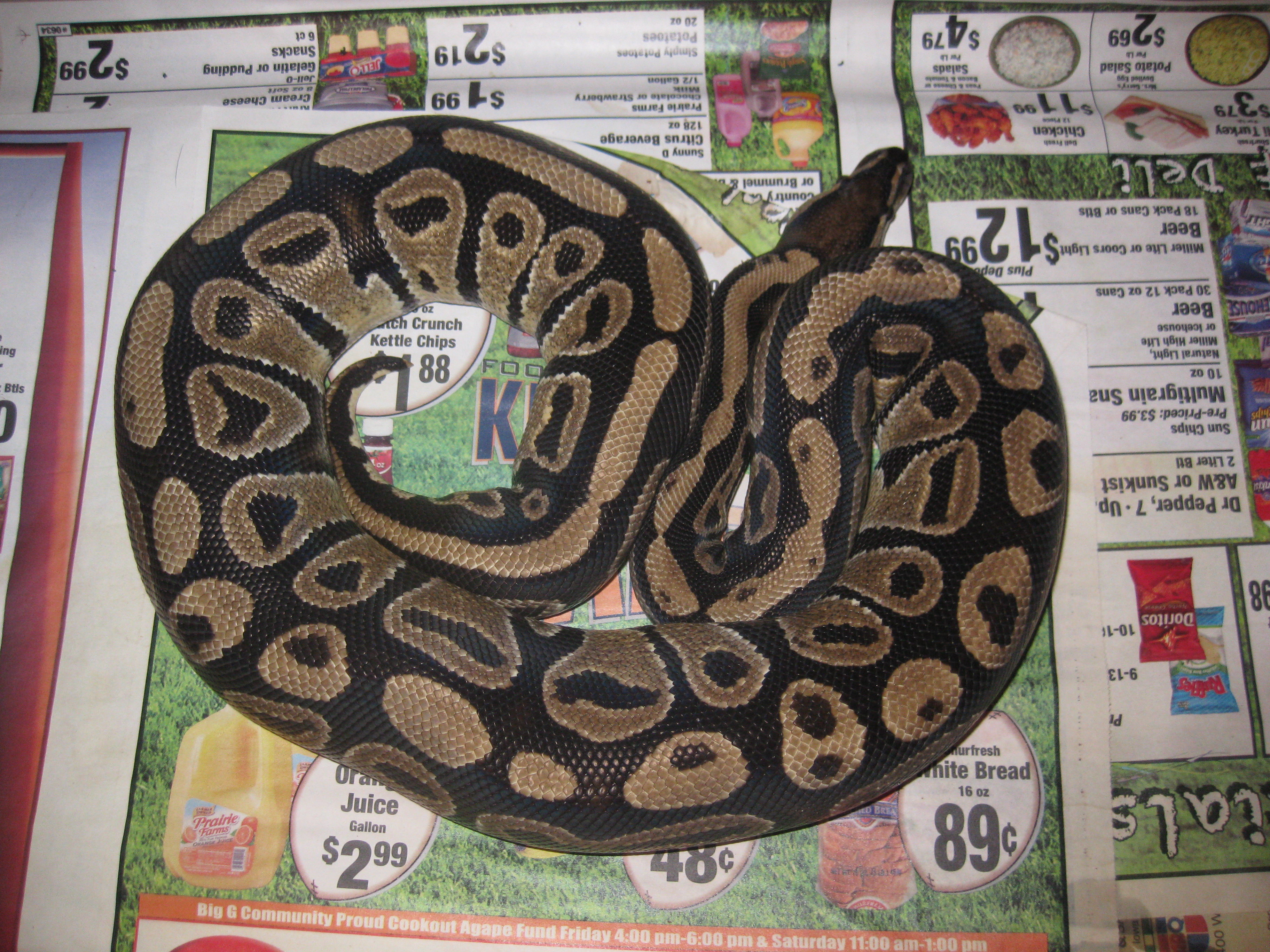 February 11th

I haven't been doing a great job of keeping up with this page. I have treated this sort of like a blog in the past, so I'll try to do better for anyone who enjoys reading through my nonsense.

This girl just started building. Hopefully she has another 'orange thing' or two brewing! I'm so excited to see her locked and loaded!

March 25th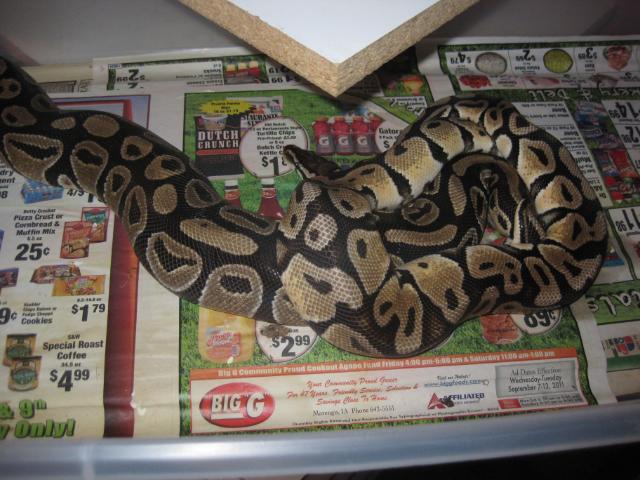 It has been pretty boring around here so I haven't had much to report. The girls are all doing what they are supposed to be doing. From what I can tell so far I may only have two females go this year, but I haven't given up on the other two girls yet since they both laid late in the season last year.
This picture is from about two weeks ago, she has that look about her that lets you know she's making eggs. This is the stage they get the ridgeback look and the "fat" spilling along the sides of their body. They look super fat and it all settles along their belly, I think you can see it in this picture. She's still breeding so she hasn't ovulated yet.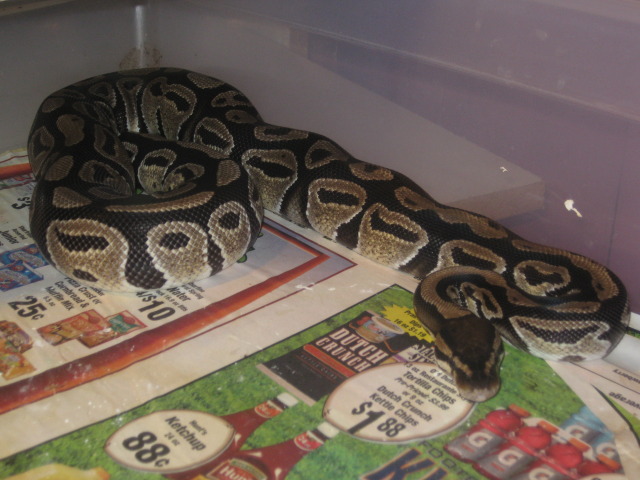 This is the same female today, she just shed yesterday and I believe that would have been her pre-ov shed, so I'm keeping an eye out for her ovulation just to be sure I'm thinking right.


I'm not sure if I had mentioned my feeding practice for the boys before, but I tried it out last year and it worked great. I feed my males small meals every two weeks during breeding season to maintain their weight and keep them eating. I don't like my males to get very big, they tend to get lazy and they like to go off feed during breeding season. I have been breeding three males and all of them have ate throughout the entire season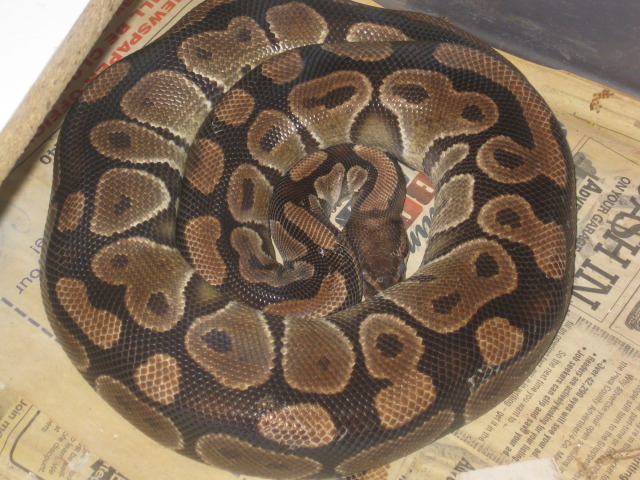 And last but not least, my biggest normal girl. I have a good feeling this is her prelay shed. For the the last two years she has laid on or around Mothers Day. She's the girl that likes to lay 43-52 days after her prelay shed so that would put her right on track for her normal laying time. I can always tell when she's getting closer to laying because she's much nicer to me, she's the only snake I'm a little afraid of! She likes to come flying out of the tub at me every time I open it when she's feeling herself.

Here's hoping for some bees!!!!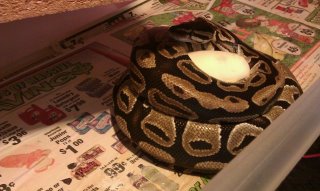 April 23rd
Eggs!!!!
There are four eggs, but one has really weak veins :(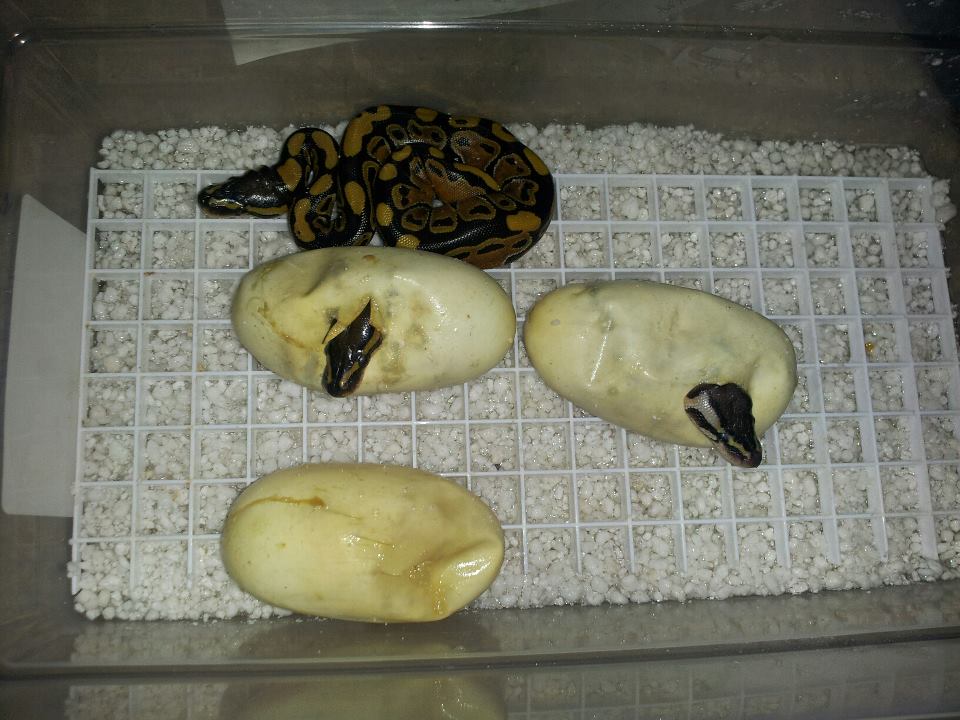 June 24th
Yay babies!!! I'm really excited to see these guys out of the egg. I'm getting married next Saturday and it's much easier to leave them be for a couple days once they are out of the egg. I took this picture yesterday before I went to my bachelorette party. I forgot to get one with all of them out, I just have some individual shots of them. 2 normal females and 1 pastel female. Can't beat a clutch of all females! Nothing too exciting morph wise, but babies are always exciting!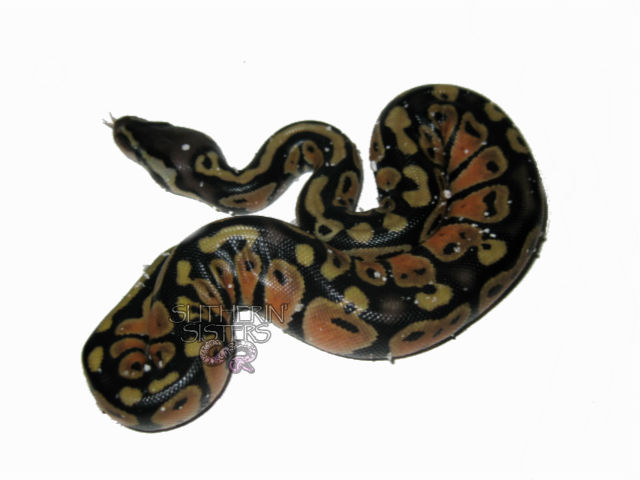 Pastel female, thinking of keeping this girl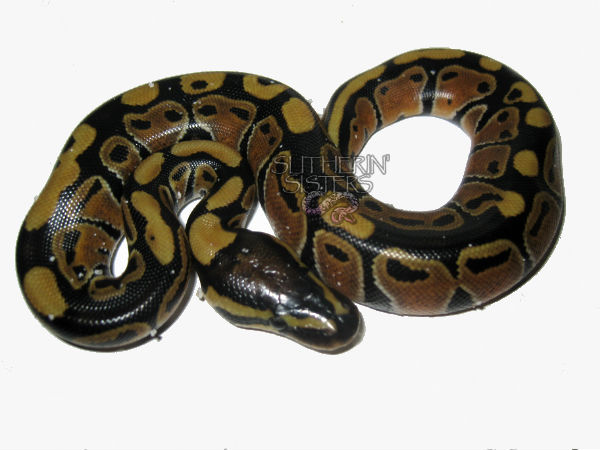 Normal Female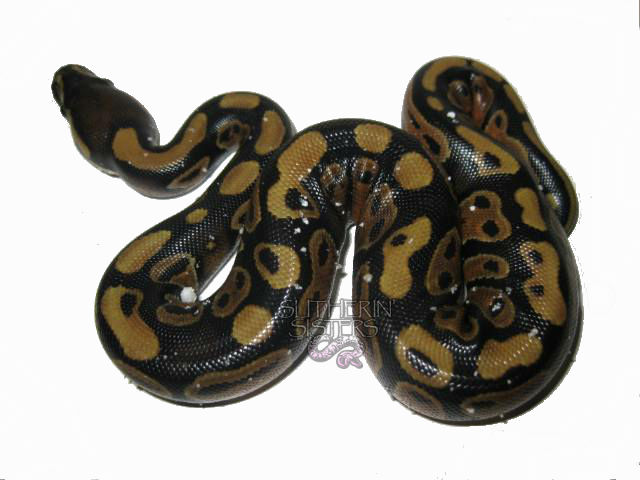 The other normal female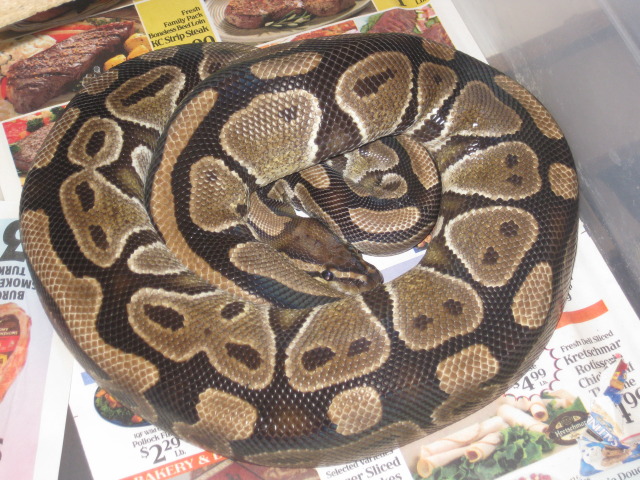 June 25th
Oh man, I think this girl wants to lay. I sure hope she lays within the next couple days if she wants to lay soon. I'm leaving for my parents to get ready for my wedding this weekend! Dang snake! I was so happy the babies were out of their eggs so I wouldn't have to worry about them, but of course this girl can't have me not worry about the snakes this weekend.

Copyright © 2009 SlitherinSisters, Inc. All rights reserved.
Copyright © 2009 SlitherinSisters, Inc. All rights reserved.
Content may not be used without permission.