2012-2013 Breeding Season

On this page you can follow my breeding plans and see how things are going each season. I'm using this section of the website as a blog of sorts for my records and for anyone that wants to follow along. My breeding season begins in November/December, when pairings start, and end when the clutches are laid, usually June/July.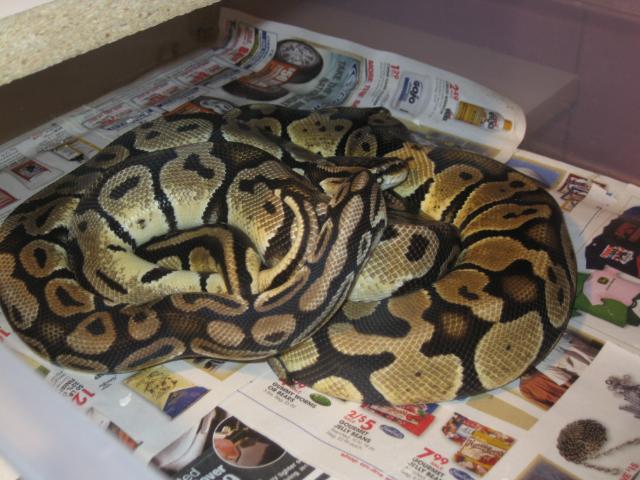 September 24th

I usually don't start pairing till early November, but this pastel female looked like she was ready to go, she's already glowing! So, needless to say I threw this male in to see if she was interested in breeding yet. She's a virgin, and he will breed anything without legs, perfect match if I don't say so myself!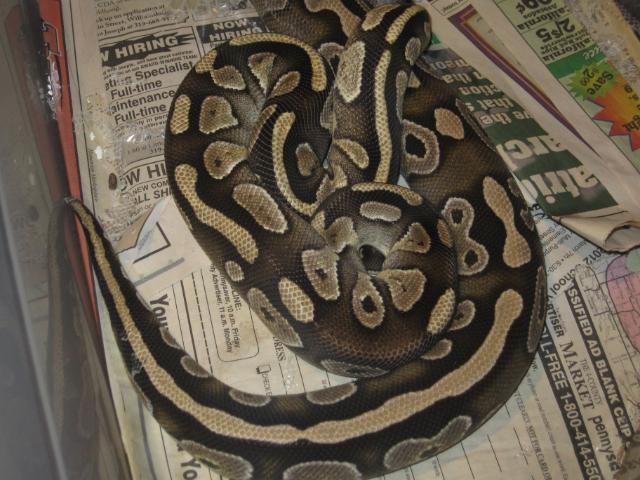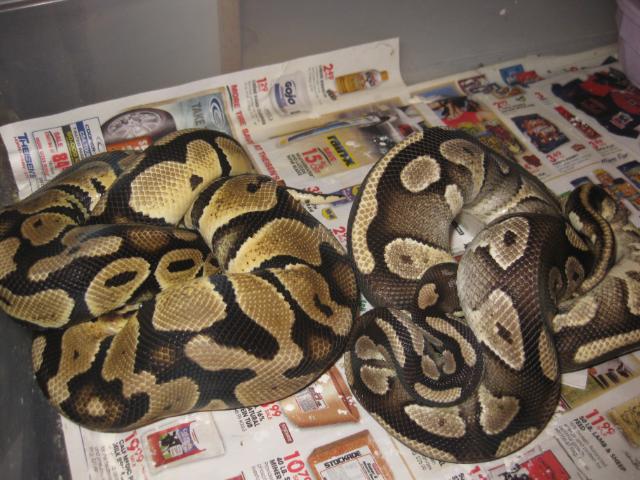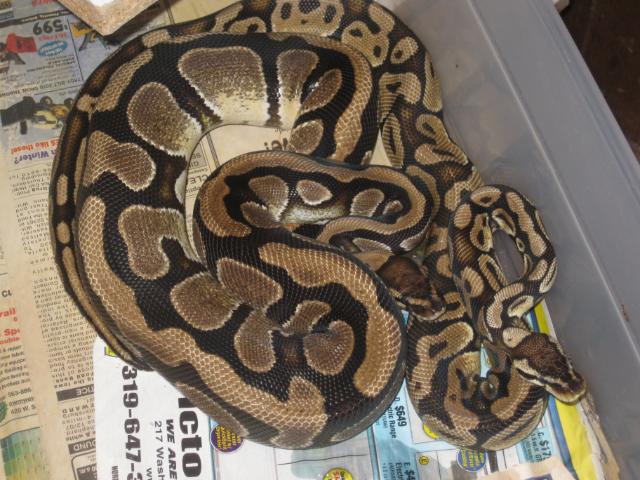 First week of October


This mojave male still doesn't seem interested in breeding. This is his second season breeding and I REALLY hope he's going to cooperate this year, that mojave female really needs him!
Either he has no swag...or he's just not into girls :(

This girl looks like a monster next to the pastel male! She hasn't been interested in breeding yet, but I threw them together for the heck of it. She was one of the girls that was 'surrendered' to the pet store. She has put on a lot of weight, but could still use a few more grams.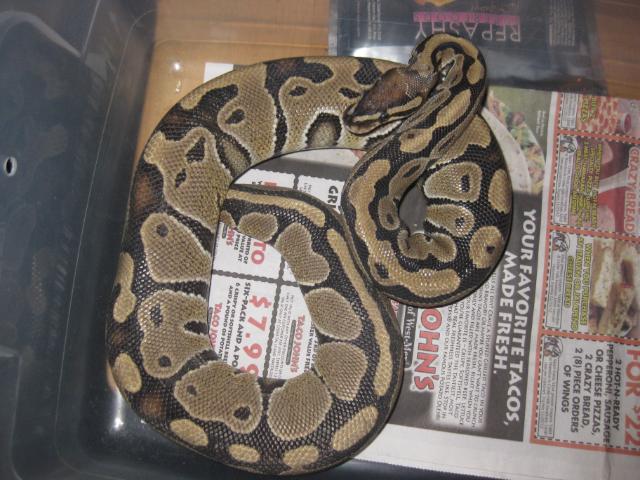 November 18th

Not much to report, nothing fun or exciting happening other than trying to get the boys and girls locked up.

I feel like I can't post an update without a picture so here is a picture of an '09 het albino girl I picked up at the Iowa show. I'm going to pair her with my double het albino male and hope she proves out!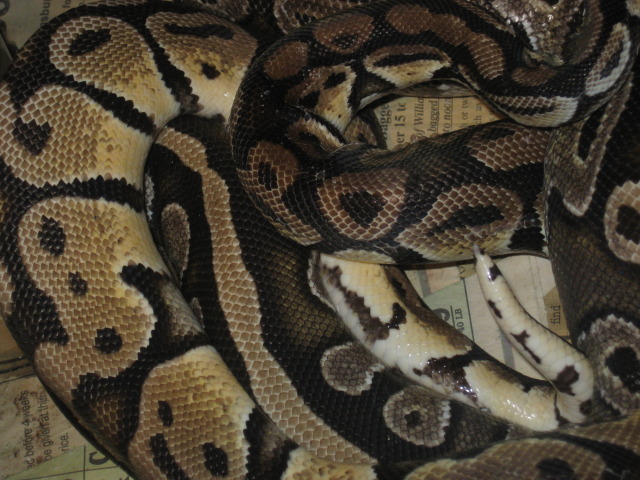 November 25th


Moved the boys around tonight, trying to get some more locks. So far it has been pretty boring. I'm having troubles getting my virgin mojos to breed. I'm not sure whose fault it is and I'm trying a lot of different advice. I decided to throw in this male pastel, who is a breeding machine, to see if she was part of the problem. He has been wrestling her and trying to get her in the right position. Hopefully he'll get her talked into breeding!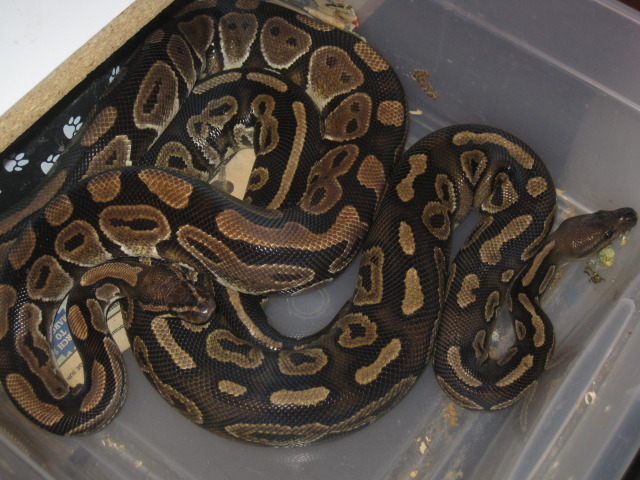 Cinny in with a normal girl. I think he may be too fat to breed. I've thrown him in with a couple girls and he really doesn't show any interest. I'm cutting back his food to see if that helps, he's 1,600 grams, a little big for a breeding male in my opinion.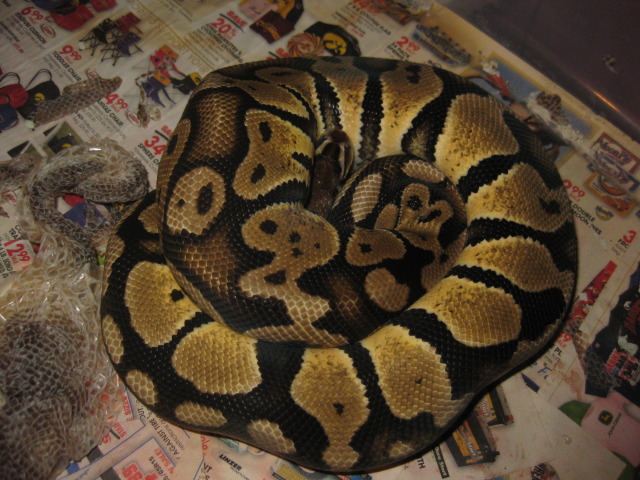 The pastel girl is getting lumpy, definitely a good sign!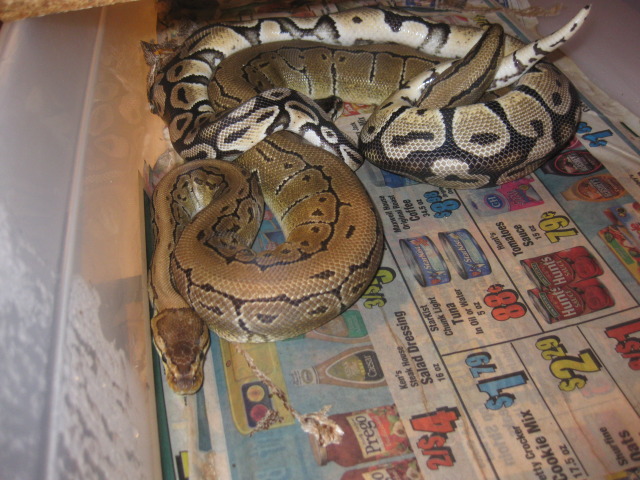 January 10th


Pinstripe x Pastel, not the breeding I was planning on, but I'll take lemon blasts. I really wanted jigsaws, but the mojave isn't interested in breeding yet. Three years now...he better get his act together!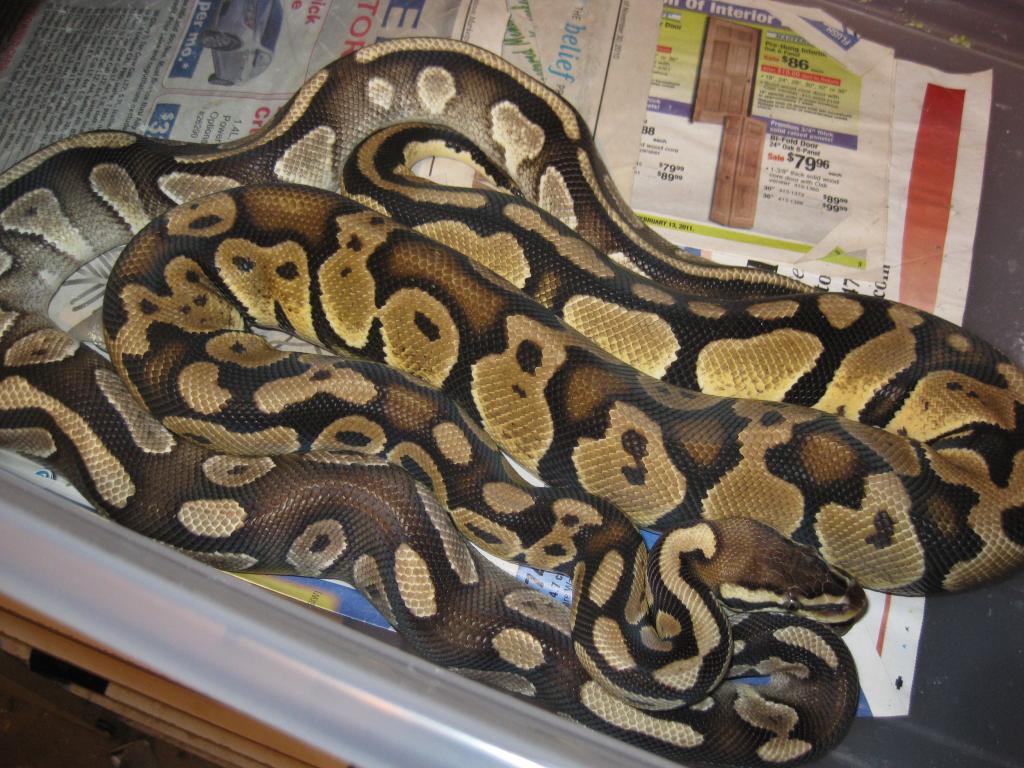 The mojave getting ever so close...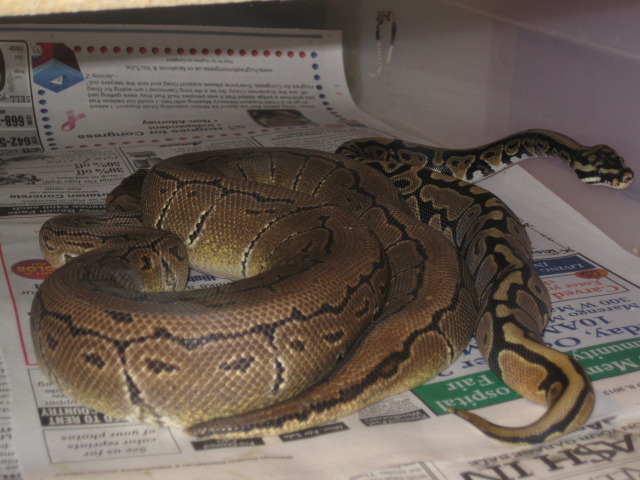 January 24th


I threw the little spotnose in with her to see if he was interested in breeding. He didn't seem interested, but he's still young so I can't blame him. I was hoping he would breed this season, but there's not much time left for him to try!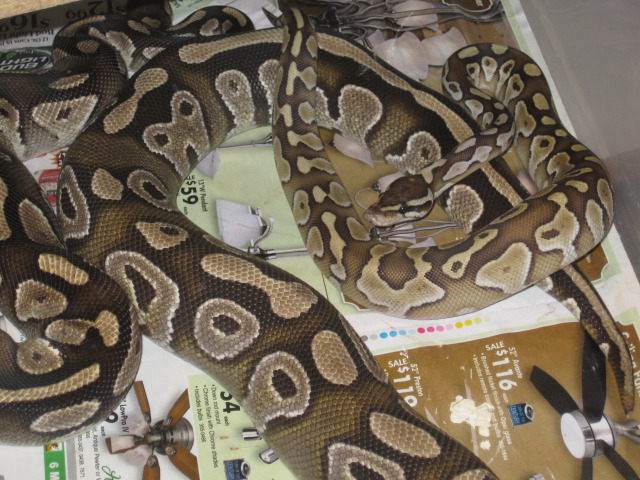 Mojave female with mojave male and lesser
male. The little lesser male actually looks like he might give it a go this year. I'm going to throw him in with her a couple more times and see if he gets any closer. The Mojave male still hasn't locked with anyone as far as I have seen. He doesn't always like to eat so I'm thinking that may have something to do with it.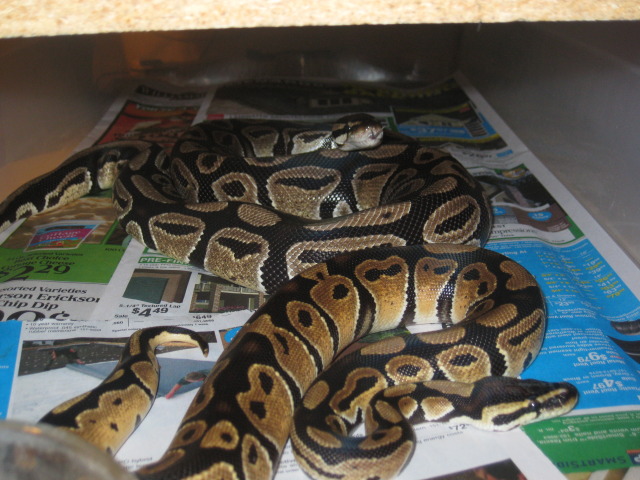 And finally, the Orange Thing with his mom. He hasn't shown much interest, but I've been throwing him in with her every couple weeks.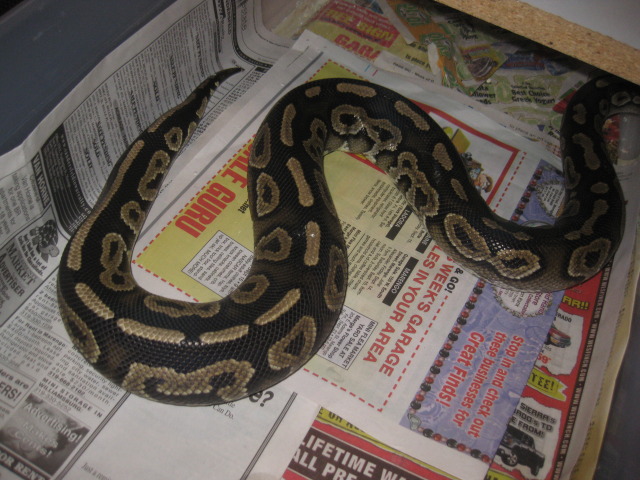 February 2nd


I went down to check on the snakes and
realized my "male" cinny was ovulating... Awfully peculiar for a male right? I picked him up from the Tinley show in October as an unproven breeder male. I wasn't sure about buying him since he had never sired a clutch, but my husband told me to take the deal. So glad I did! I tried every trick in the book to get him to breed, including putting "him" in with a female and another male. Guess it worked! Should have eggs from "him" in roughly 44 days!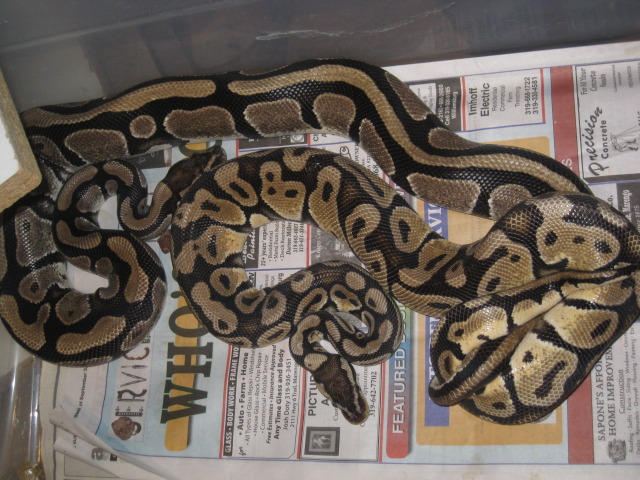 I'm really excited to see babies out of this girl. I'm hoping her pattern is strong enough to get through the pastel's really busy pattern. She's really light so hopefully the babies will be nice and light/bright as well.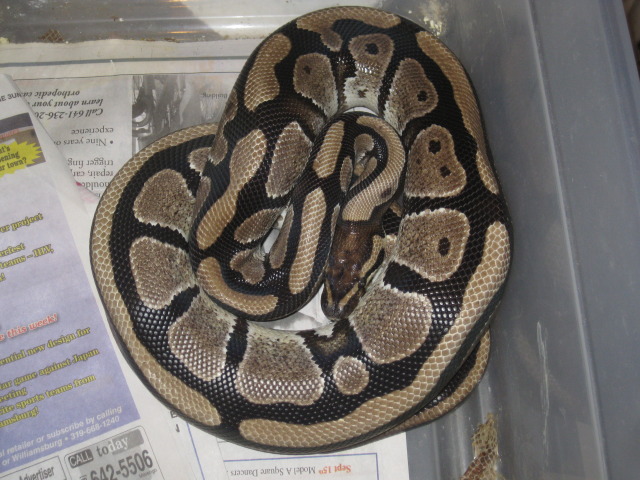 Here's another picture of the girl above, I think she will make some nice babies!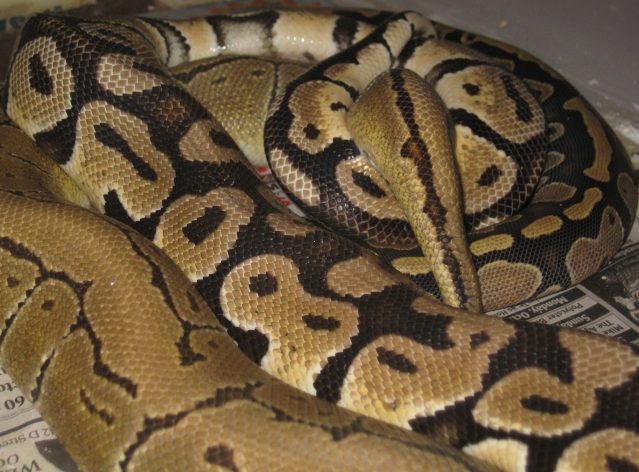 February 7th


Got some more breeding going on! I'm crossing my fingers for some awesome lemon blasts!!!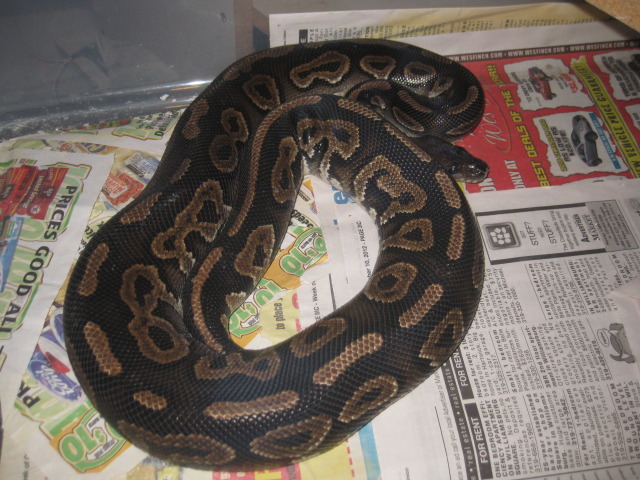 February 17th


This picture is from a couple days ago, but "he" is right on schedule!!! She's in the blue phase of her pre-lay shed now! I should see eggs in about 30 days!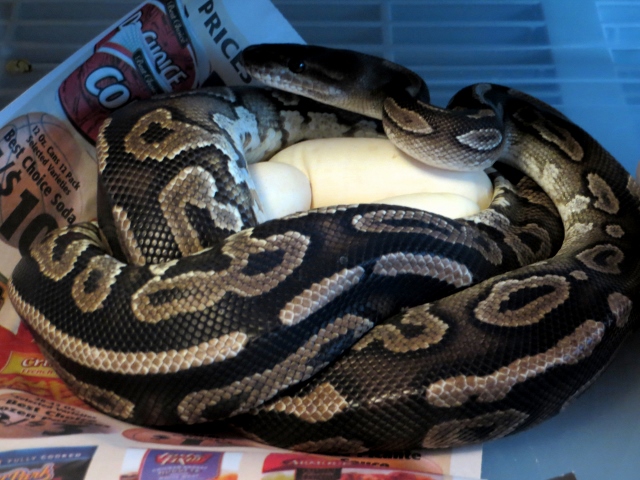 March 22nd

The cinny (I bought as a male in October) laid eggs! These are the first eggs of the season!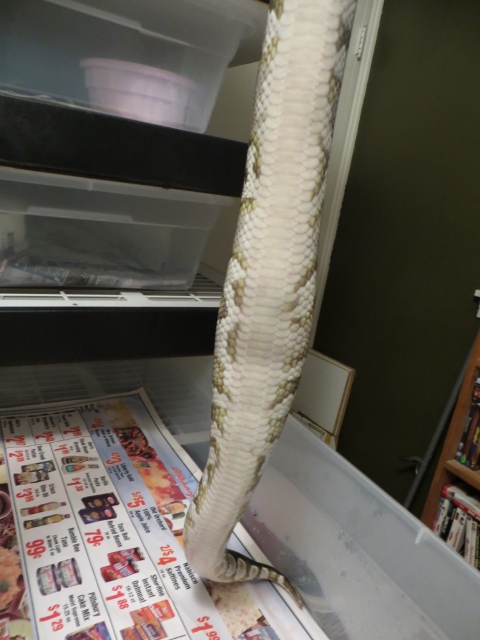 And the mojave ovulated today! Either it's still beginning or it's just a really small ovy but you can hardly tell from the top down. The dark smug is just a shadow.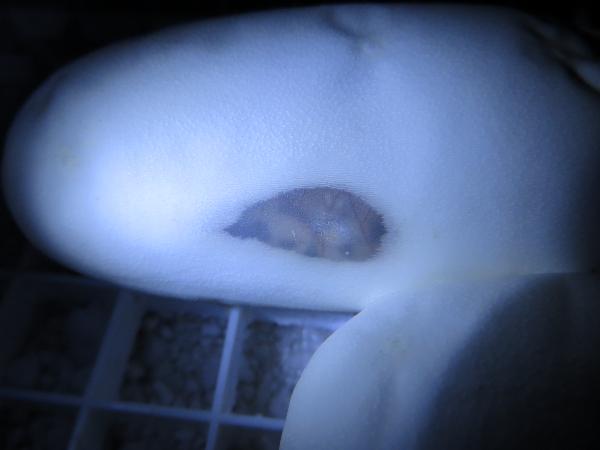 May 9th


The egg with the window, pretty cool! This is from the Cinny X Pastel clutch. I'm going to guess that it will be a pastel :( But I'm going to cross my fingers for some pewters!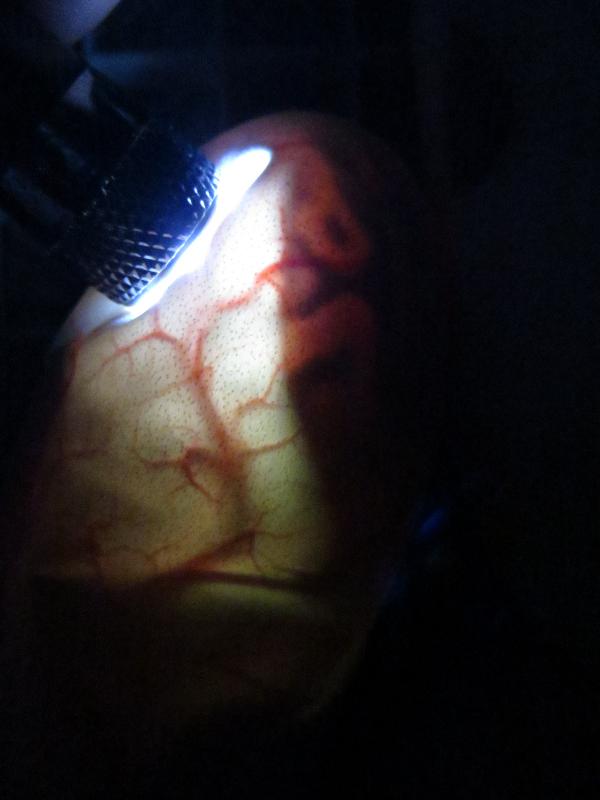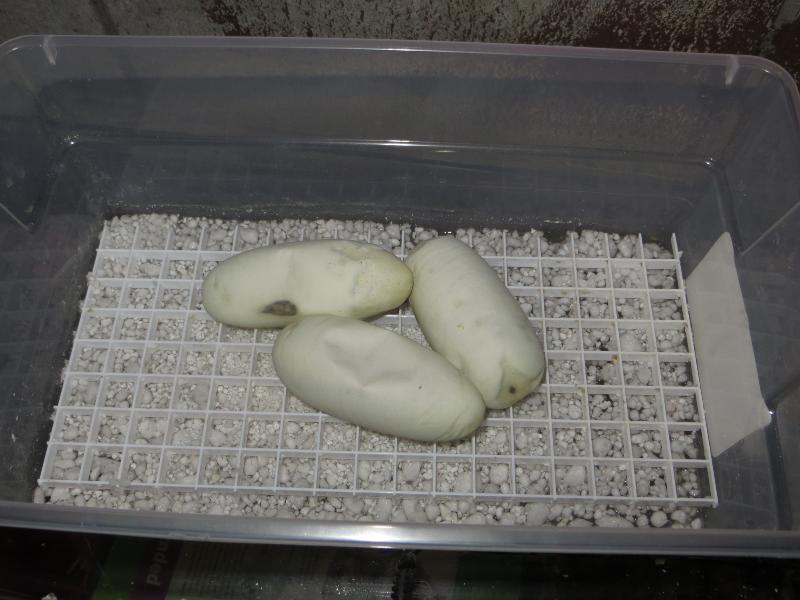 Another egg, not sure what to think on this one either!
I'm really hoping I get a pewter or at least a cinny or two!

And the Cinnny X Pastel clutch all together


May 17th
The babies! Cinny female, normal female, pewter male.

I cut on day 52, they were out by day 56. I did have an issue with the pewter, he had a twisted umbilical cord. I have heard that it's more common with eggs that have been cut. If it really is, well then, that's my bad. I was able to untangle him and put him back in the egg (for this picture).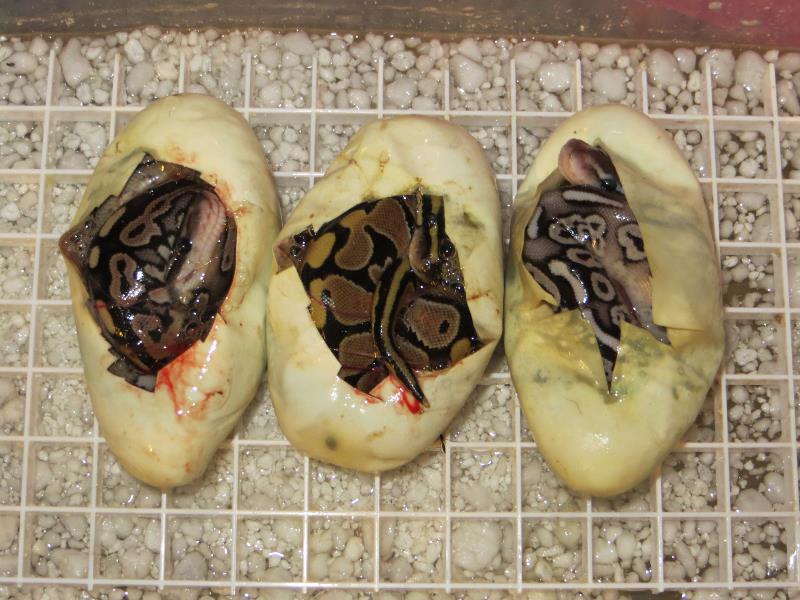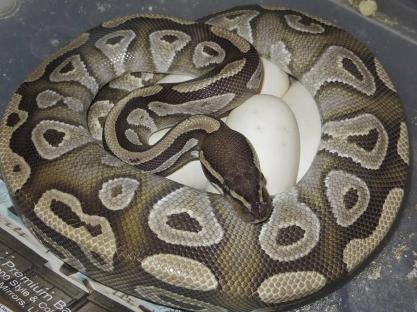 May 20th
The mojave female laid today! 4 good eggs. She was paired with a mojave, a pastel, and a lesser. My guess is that the pastel got her. I have not witnessed the mojave breeding in the 3 years I've tried, the lesser was young, and the pastel is a champ. So...I'm sure the pastel helped make those eggs. Oh well I guess! BELs are pushed back one more year :-/




May 28th

Look at this cute little nasty trio! They are all biters, but usually that means they are good eaters so I'm not complaining. They have all ate for me without much of a fuss.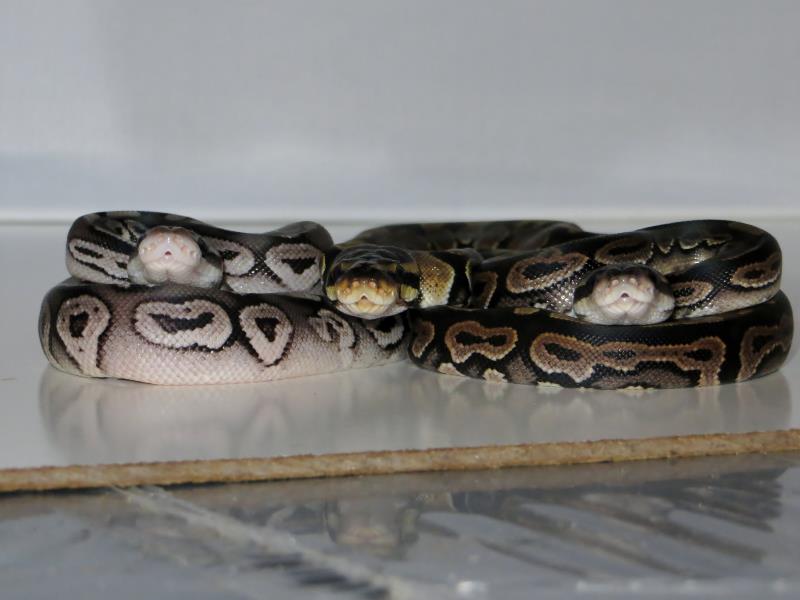 June 6th

Pinstripe laid today! She was paired with mojave, pastel, spotnose, and lesser. Again, I'd put money on the pastel being the sire. I swear he could knock up a male, which he sort of did considering I bought the cinny as a male...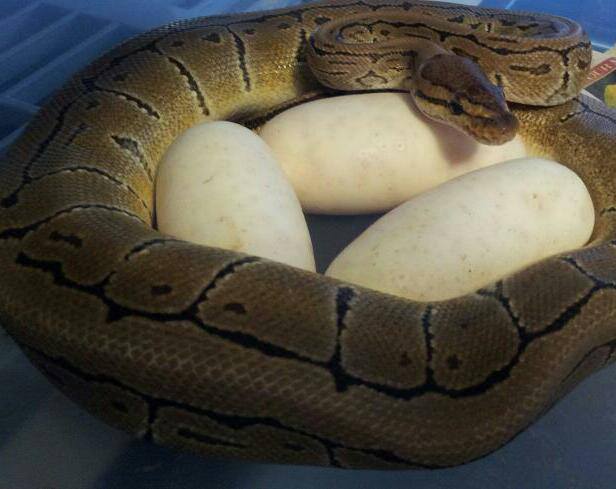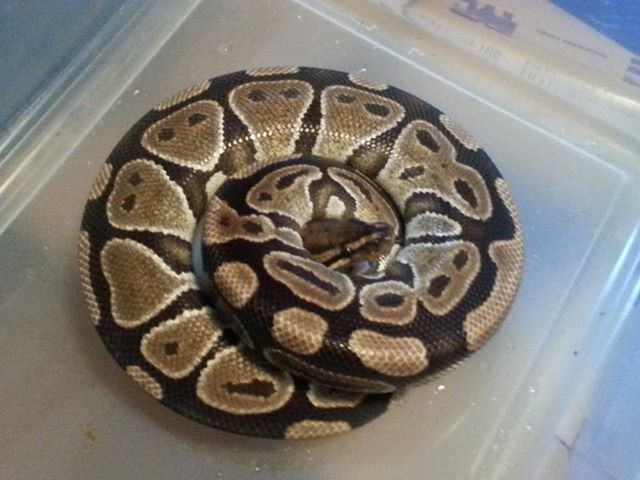 July 2nd

Yay, more eggs!

This clutch was a little bit of a bummer once I unwrapped her. 2 good eggs and one slug :( This was my first slug ever! I haven't made up my mind about this female yet. She has thrown 2 clutches and 80% of the babies have had some sort of deformity. The first year was my fault because of humidity issues during incubation, but I don't know why her second clutch came out with kinks too. I guess we'll see what happens with these babies!
July 11th

We have been asked by several people to make some videos so here you go! This is a video of me cutting the Pastel x Mojave clutch!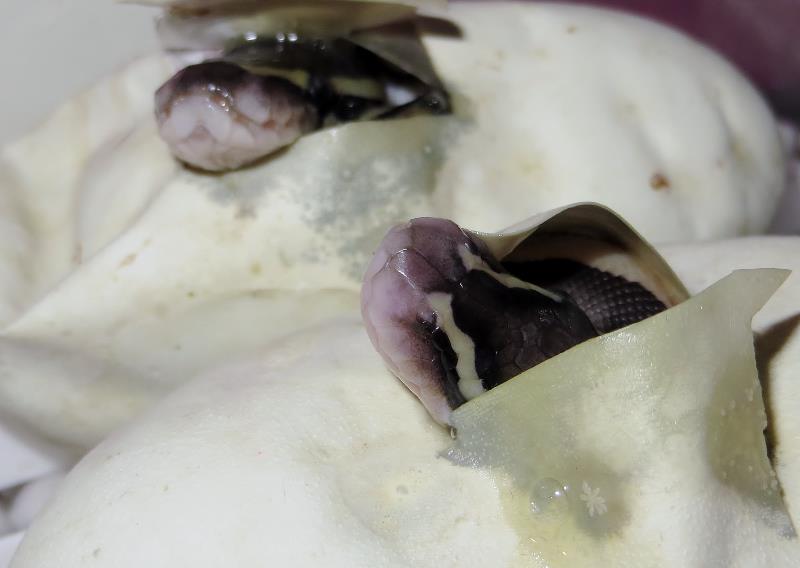 July 13th


Baby pics!!!

They were poking their heads out this morning so I had to take a few shots! I believe there is 1 pastave, 1 mojave, and 2 normals. We'll know more when they crawl out!



July 13th


This one sure looks like it has a pastave head! I can't wait to see these guys out of the eggs! Should see them out in the next day or two!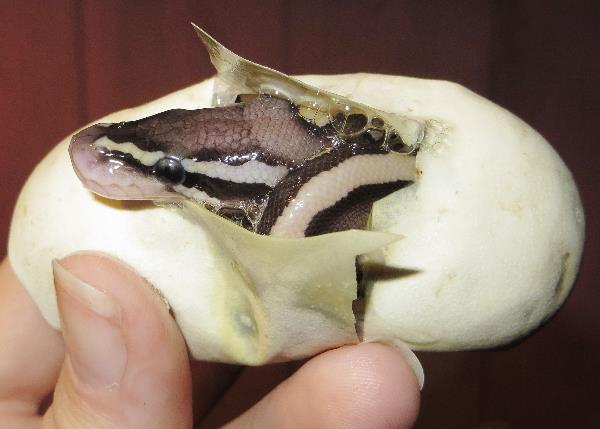 Copyright © 2009 SlitherinSisters, Inc. All rights reserved.
Content may not be used without permission.